Cynthia Schroter
Cynthia Schroter is a 21-year-old artist focusing on painting, printmaking, and graphic design. Born and located in Treaty 6 territory, Amiskwaciwâskahikan, Edmonton, Alberta, Canada. Cynthia has a BFA from the University of Alberta. Cynthia's print practice surrounds the exploration and creation of narratives around perception and imagined liminal spaces. Cynthia creates an entryway to view an ever-expanding environment, one that could be safe or dangerous. She engages with unconventional materials that, through layering, compliments the mental state portrayed in her paintings. Her overall goal is to draw attention to and create a safe and open environment to promote conversations about parts of mental health not often discussed.
Recent exhibitions included: Harcourt House Member's Exhibition and VASA's Annual Art Auction Event at dc3 gallery. Cynthia's work has been displayed at the pARTnership gallery at the Edmonton Convention Center as a part of The Works Art and Design Festival. Cynthia has received awards throughout her education and honours for two of the four years of her Bachelor's. From 2018-2023, three Jason Lang scholarships, as well as two professional creation awards. In 2023, she also received the University of Alberta Opportunities Award and The Florence Andison Friedman Award.
Artist Statement
Much of my youth was saturated with folklore, fantasy games and family expeditions that sparked a fascination with the contrast between imaginary and physical environments around me. Specifically, The way stories amplify and change the appearance and complexity of form and body within a created world. As I have matured, my understanding of my perception has been challenged and made other within my surrounding society, much like I view the contrast between games and reality. A large portion of my painting practice focuses on inward observation to work through my perception of mental health, physical self and how they integrate with the world around me. Focusing on my perception of self and environment through my experience with dissociation. The printing half of my practice revolves around imagined spaces, liminality and world creation through the construction of expanding environments and their interaction with an audience. My exploration through painting and printmaking are connected in many ways and have influenced each other throughout my creative process. As my method develops, experimentation with materials, metaphor, colour theory and lighting hold much meaning to the emotions and intention imparted into my work. The materials I adamantly collect are filtered through a process that weighs the importance of meaning and physical interaction with the environment and the human form. Alongside this process is how the work will be displayed, such as exploring installations and sculptural forms to enhance the atmosphere and viewers' bodily experience.
Welcome to town, 22" x 30", copper etching, 2021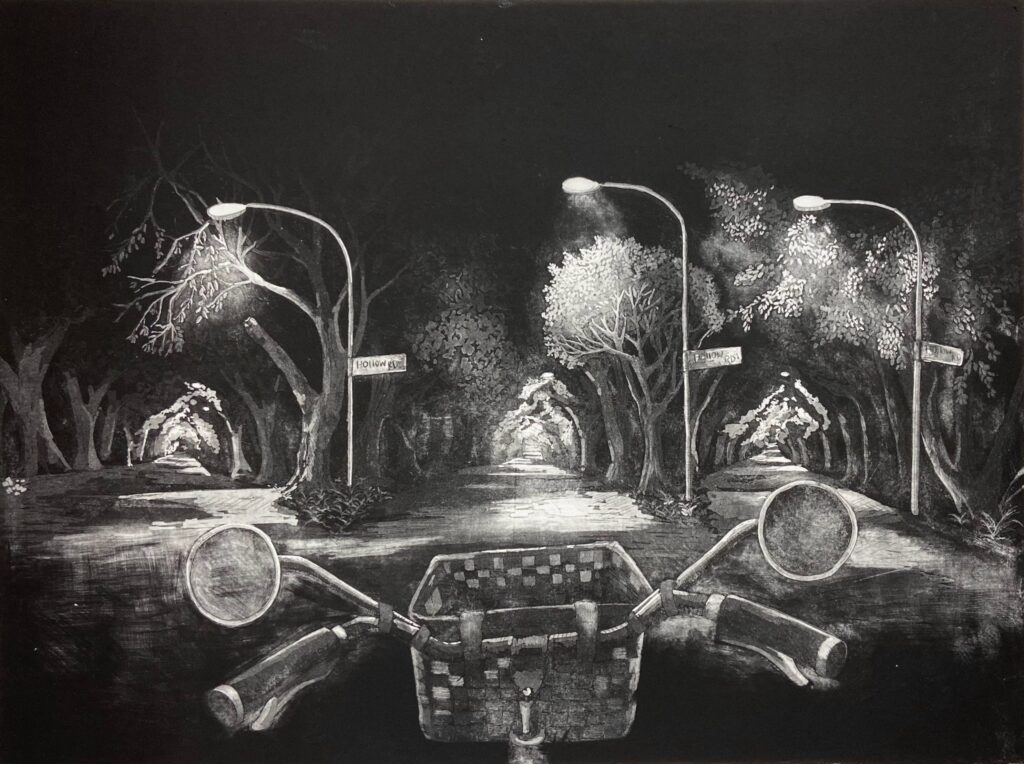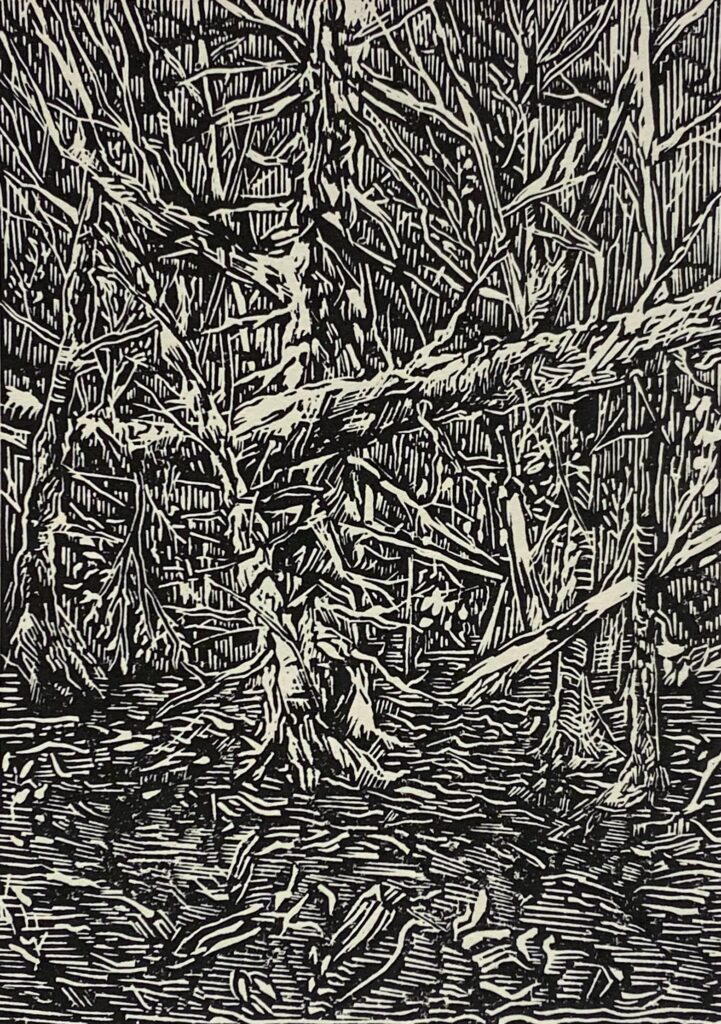 The briar, 5" x 7", linoleum cut, 2023
Zone 002 silent, 30" by 80", oil and acrylic on a wood door, 2023


Zone 003A memories of presence, 30" x 80", oil and acrylic on a wood door, 2023
Wandering silence, 30" x 80", copper leaf, acrylic, oil and mylar on canvas, 2023