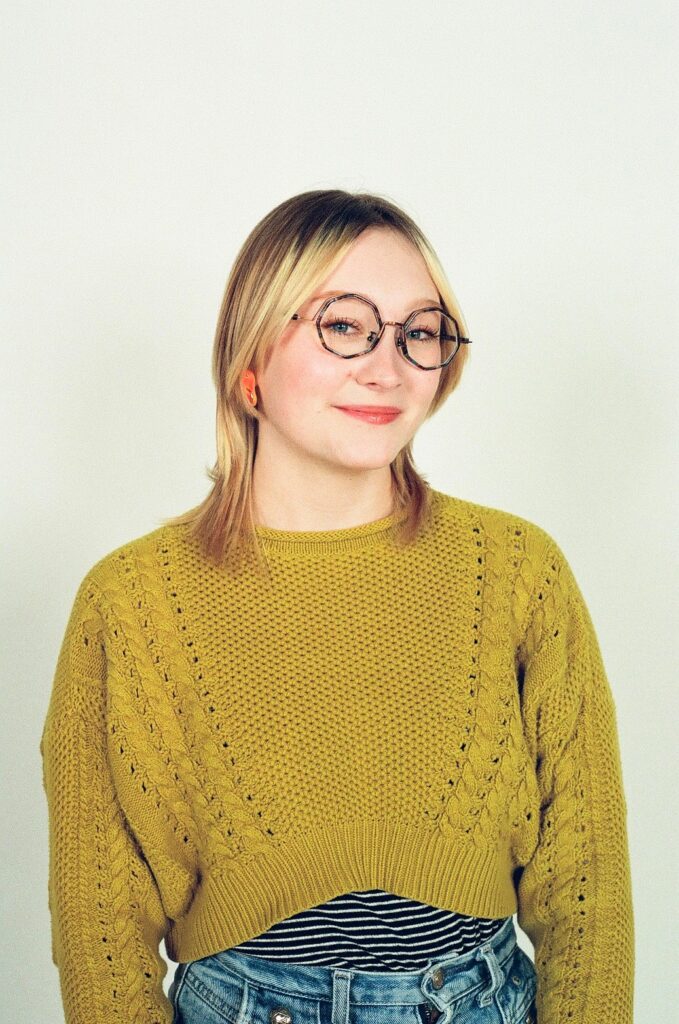 Amanda Komarniski
Amanda Komarniski (she/her) is a multidisciplinary artist, located in Amiskwacîwâskahikan (Edmonton). Born and raised in south-west Edmonton, she has a BFA from the University of Alberta. Surrounded by her relationships and memories of the past 22 years, she creates work for her practice that reflects her identity and emotions, reaching into further understandings of herself.
With work primarily in painting, she explores her emotional identity and layered understandings of self that are driven through auditory recall processes. While she also has a profound affection for design practices, what remains constant in all mediums of her practice is creating work that reflects a medley of references and inspiration. She finds different moments that when put together in her process, provide vivid understanding for herself as a whole.
In 2022, Amanda received the Alberta Society of Artists (ASA) EAU: Undergraduate scholarship accompanied by digital exhibition. She has received numerous scholarships and awards for her studies, including four Jason Lang Scholarships, International Honors Society standing and recognition for her academic achievements. She was also awarded first place recipient for the Sustainable Design Goals (SDG) art competition. Amanda is also an executive member of the Visual Artists Student Association (VASA), fulfilling her role as 2022-2023 co-grad chair and auction coordinator for VASA's 2023 AA art auction at dc3 Art Projects.
Artist Statement
Typically I can feel distanced from my emotions, and struggle to remember experiences as others do through traditional recall. However, sound, music and auditory recall is at the center of how I grasp my moments and emotions. Currently, I am interested in expressing and understanding my emotional identity, to navigate my struggles with recalling memory and emotion, through portraiture. Sounds and songs with lyrics and tones that synonymously express my emotions and evoke memories. These sounds I feel in my teeth. Visually I present these tones of emotions, and processes of understanding myself and my relationships with my memories and emotions through color, movement and forms which are synthetically inspired. Vibrant colors evoke emotion and tone related to sounds and songs, pushing into deeper reflections of emotions with color relationships. My brushwork focuses in and out on a figure as it relates to emotions being experienced in the process, I also bring notes of collage into my work which reflects the complex layers of self, and allow me to put into perspective what I'm learning about myself during the involved processes. More of my personal influences come from the sounds and songs that are vital to my dearest relationships and self expression. It's what I grew up on and in this last year has strengthened my connections and memories. Sounds of funk, folk, and indie-pop drive me to paint in a way where I am expressing myself and playing with unexpected moments. My body of work seeks to understand a personal inquiry into my emotional identity, which so far has proven to give me a fuller body experience of my life. Acting as a process of remembering, it unlocks and melds these different facets of myself.
Past Life, 24×30", oil and acrylic on cradled masonite, 2022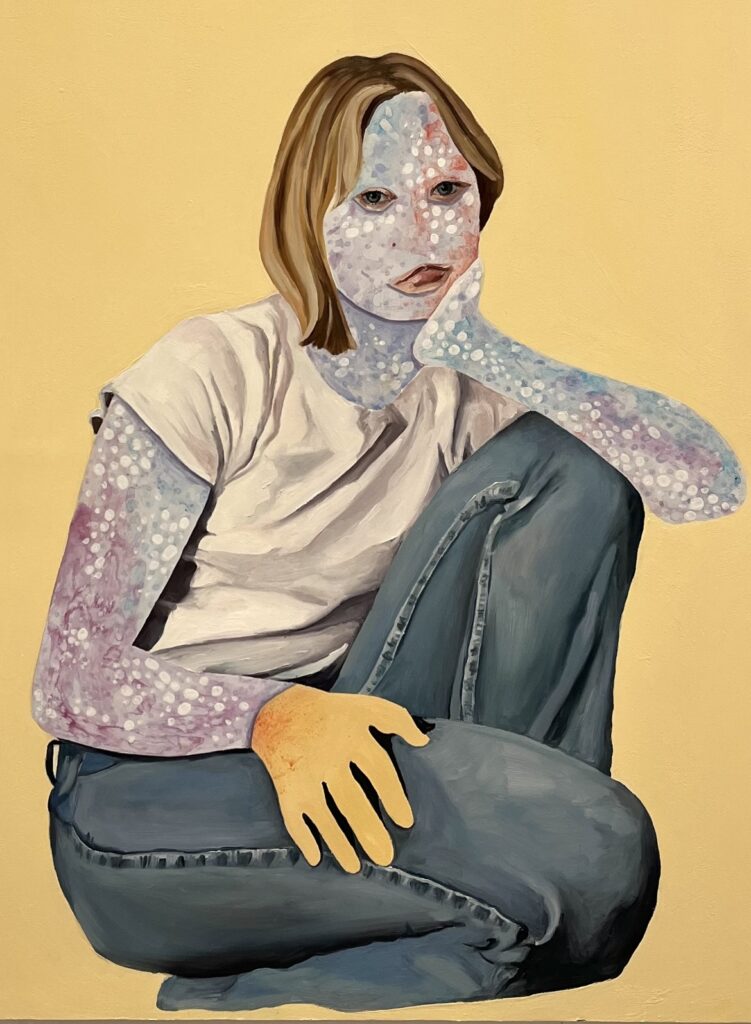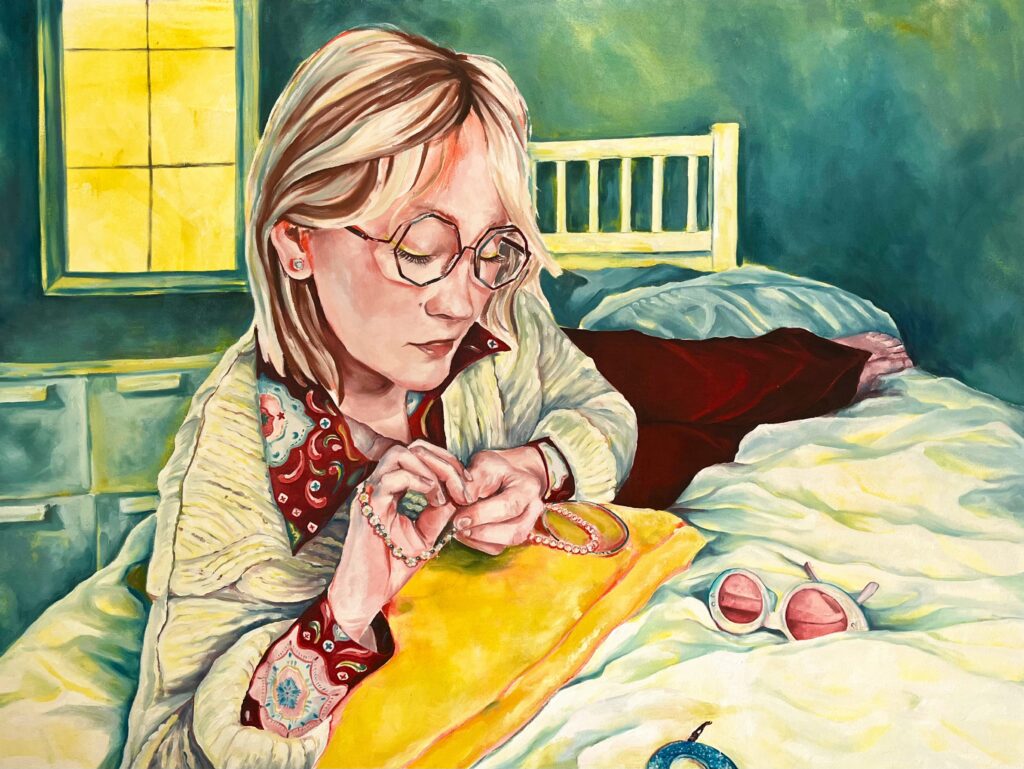 Daisy Chains and Clip-on Earrings, 3×4 feet, oil and acrylic on canvas, 2022
I'd do anything just to feel with you, 18×22", oil on cradled masonite, 2022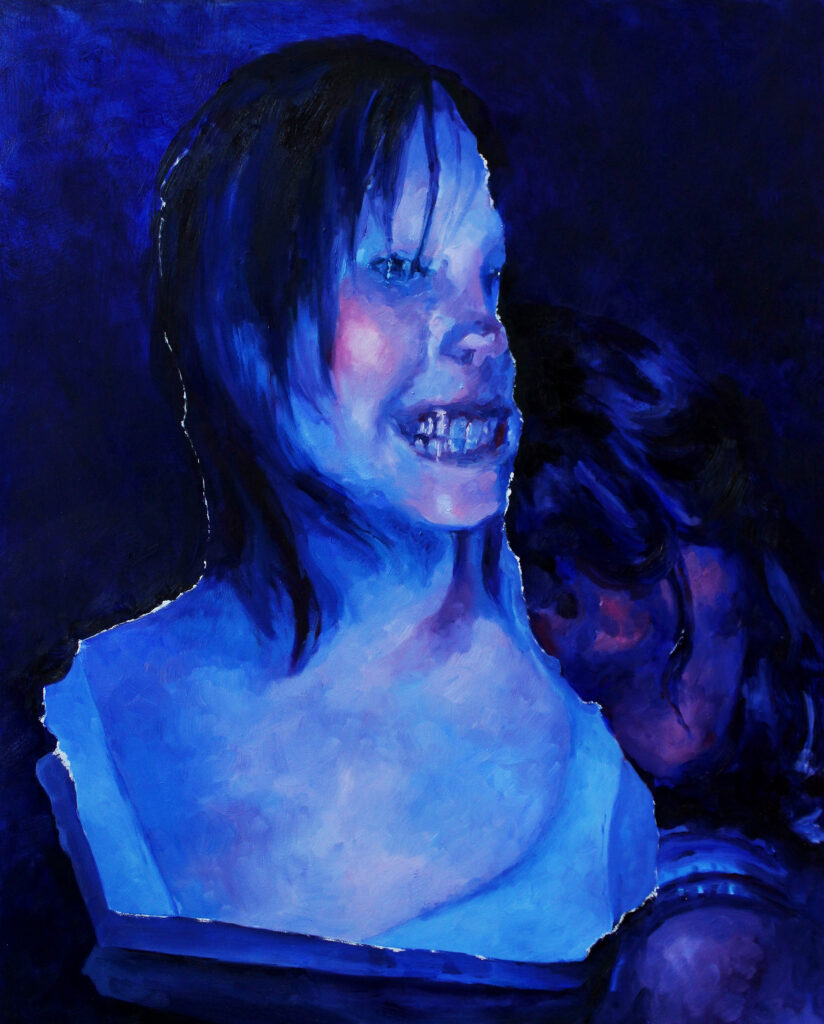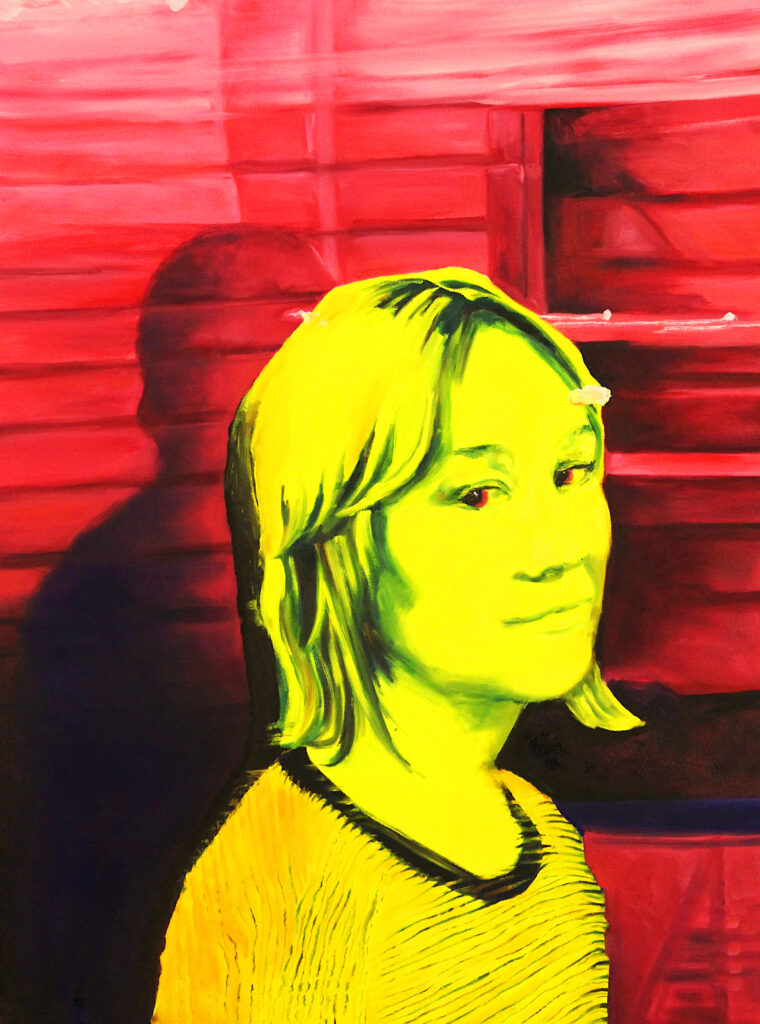 Im happy to be sad, if I was feeling nothing I would feel like somethings wrong, 24×32″, acrylic and oil on canvas, 2022
I would break a glass just to watch it shatter, 18×22", oil on canvas, 2022